Social Events!
Check out what our Social Committee has in store for you! They work tirelessly to bring us interesting and informative tours and events. They also feature a monthly lunch gathering to bring members together. Review what is currently in store, make your reservation (if needed), and enjoy the company of other New Frontiers members.
Interesting Tours
Our Social Committee seeks out interesting and unique places to visit around the Phoenix Metropolitan area. If there is a place of interest you care to share, please contact the Social Committee.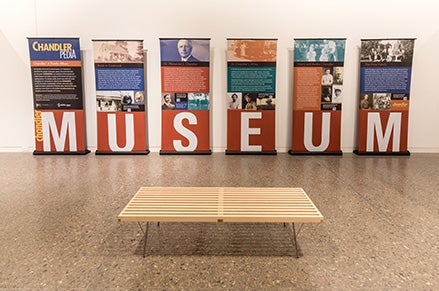 Chandler Museum
Wednesday, June 24, 2020 @ 10:00 am
300 S. Chandler Village Dr
Chandler, AZ Map
Join us for a free docent-led tour of Chandler Museum. After a guided tour of the museum, we will take a self-guided tour of Beyond Bollywood, a display which recognized contributions to change American to America made by people who trace their roots to India.
12:00 PM lunch at Chompie's 3481 W. Frye Rd, Chandler (Chompie's is immediately east of the museum) RSVP – Linda Ems by Wednesday, June 17 Please indicate whether you will be touring the museum, eating at Chompie's or both LHewerdineEms@aol.com or text 602-509-3893. Please wear your name badge.
Please see the flyer for additional information.
Ready to Join?