Classes
New Frontiers offers a variety of classes in-person or via video conferencing.
Class Schedule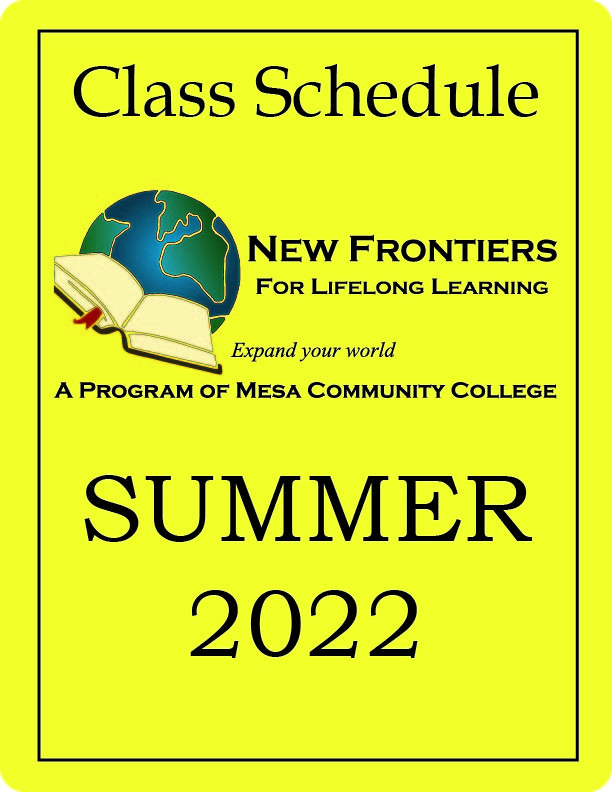 Summer 2022 Class Schedule (May 24, 2022) may be viewed online or your device.
Free Adobe Acrobat Reader DC download. Deselect all "Optional Offers." Select the "Adobe Acrobat Reader DC" to download the free version.
The New Frontiers class schedule is available in print PDF or viewed as a magazine below.
Fall/Spring/Summer Class schedules are available online. They are subject to frequent revisions. The schedule is mailed to those members lacking internet access.
Please contact Suzanne Brown with changes or corrections.
Joining New Frontiers
Please contact the Mesa Community College Center for Continuing and Community Education at 480-461-7497 or email your questions. The can assist with becoming a member of New Frontiers and paying the membership fee. Be sure to leave a message if they are away from their desk.
Registering for New Frontier Classes
If your New Frontiers membership is current, you may register for classes anytime. New and returning members should update their profile.
Unsure how to register for New Frontier classes, please review this document.
If registering late for classes, please contact the facilitator listed in the class schedule.
Summer 2022 Catalog Changes-at-a-Glance
Class Title
Date Changed
Type of Change
Originally Offered
Changed To
Online Catalog viewed as a magazine
(Select the "X" to remove the embedded ad)
(Select the box in the lower right corner for a full screen, press the "esc key" on your keyboard to exit)